Roasted grapes with cheese crostini are good to the last little grape. Elegant, easy appetizer or dessert.
Elegant and easy. Thats sounds good when you're busy, right?
Roasted Grapes with Burrata
The beauty of this recipe, besides that it looks fancy, is it's not fussy. While the grapes are in the oven you can turn your attention to something else, like opening the wine, setting the table, or cooking the other dishes.
The ingredients
¼ pound grapes, I prefer black, purple, or red
8-ounce ball Burrata cheese or fresh mozzarella
honey, olive oil, balsamic vinegar
toasted bread, crackers
How to make Roasted Grapes with Burrata
Given the season's focus on thanks, your body will be ever so thankful for a walk after you eat. You'll be grateful for an easy, elegant recipe.
Bake grapes and spoon over cheese, spread on toasted bread
Heat oven to 425°F. Cover baking sheet with parchment paper or silicone mat, much easier cleanup because grape juice is sticky. Drizzle grapes – I prefer black, purple, or red here – with a teaspoon of canola oil. Roast 25 minutes or until grapes are soft and wrinkled.
I've plucked the grapes off the stem and also roasted with stem on. Taking the stems off makes it easier to eat.
Spoon warm grapes over Burrata cheese, drizzle honey and balsamic over. Serve with toasted bread slices, crackers, or these Apricot Pecan Crisps. Serve with cocktails, like this grapefruit martini. 🍸
Cook's Note: Roast the grapes a day or two ahead of time. Allow them to come to room temperature before spooning over cheese.
Make it your own
It's good as it but you can make it your own. Sprinkle fresh thyme over or chopped hazelnuts or walnuts. Try a different cheese. Use a little fork to help scoop it up off a pretty Mexican platter.
This would be a great addition to a cheese board.
Cook's Note: Burrata is a fresh mozzarella ball filled with shreds of mozzarella. Look for it in the refrigerated deli section. It's packaged in a plastic tub. If you can't find it, substitute a fresh mozzarella ball.
What cheeses go with grapes?
Sweet grapes and salty cheese are a good combo. If Burrata isn't available, try fresh mozzarella, blue, goat, Manchego, Gouda, Brie, or a schmear of ricotta.
But before we spread some deliciousness, let's look at my number one tip for taking T-Day to another level. No, I'm not taking away the pie. Or the whipped cream.
How to have a healthy holiday
If guests ask what they can bring to a holiday dinner, tell them their walking shoes.
Surprised I didn't say green bean casserole?
Well, there's that, too.
But I'm here to help you LiveBest, remember?
We fill our plates with sweet potatoes, cranberries, stuffing, and pie. Yep, me too!
After the last forkful, these holiday favorites are converted to our body's best fuel, glucose. This blood sugar is the energy preferred by the brain. Muscles like it too. But glucose needs insulin to pull it into cells in order to be used. Otherwise, it just floats around in the blood. This is why those with diabetes need insulin.
Stay with me on this science lesson.
Is glucose stored as fat?
If we have more glucose than we can use, some is stored for about a day's worth of energy. The rest is converted to fat cells. Yep, fat. BUUUTT, when we walk or do some kind of physical activity that calls our muscles into action, the muscles use glucose as energy, reducing the amount in our blood. So, less is stored as fat.
How to reduce body fat storage
Blood sugar peaks 30-60 minutes after eating and dips to its low 2-3 hours after a meal. A walk within 30 minutes after you eat blunts the rise in blood sugar, reducing fat storage. Reducing. Fat. Storage.
Not only does even a 15-minute walk after eating normalize blood sugar, it helps with digestion, moving food through the GI tract. This reduces acid reflux, heartburn, and improves sleep. Because a walk has more benefits than we can count, leave the dishes and head outside. Lose your head and try for 30 minutes 😉

Soul Food: Many of us acknowledge something we're grateful for on Thanksgiving. But can you write down 3 good things? A study found that participants who wrote down 3 good things each day for a week were happier and less depressed at 1 month, 3 month and 6 month followups. Look for the good and write it down.
Pin it for later!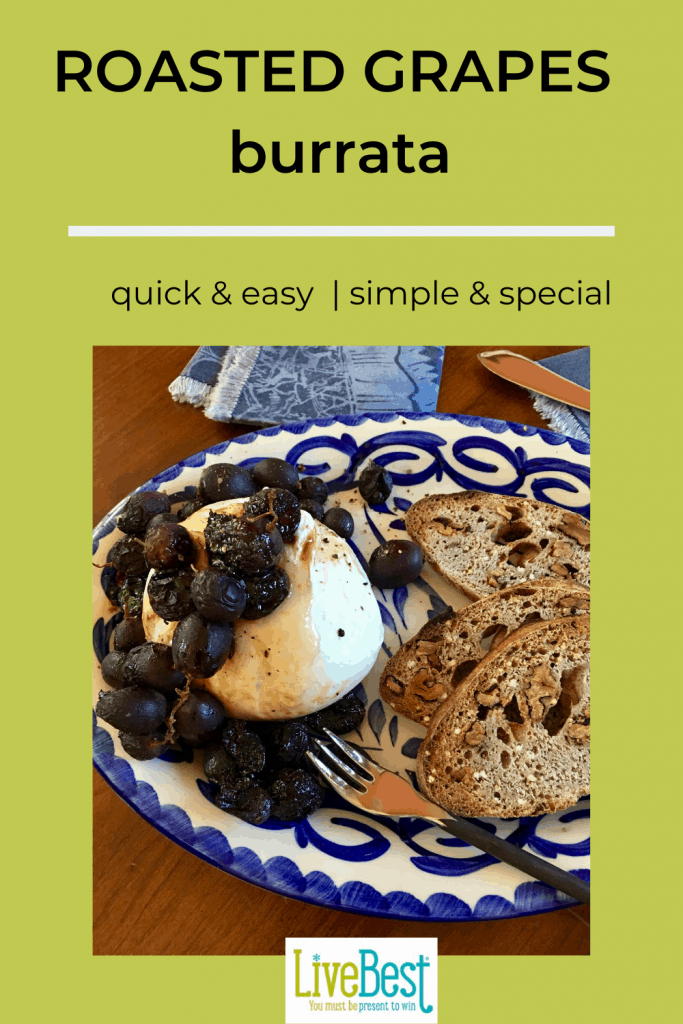 Best easy make ahead appetizers from LiveBest
Or check out more than a dozen ways to deliciously top toast.
P.S. Hungry for more healthy living tips and recipes? Sign up for my newsletter here. 
This post may contain affiliate links which means if you click through and make a purchase, the seller pays me a commission. It does not increase the price you pay.
Pin it for later!
Print
Roasted Grapes with Burrata Crostini
Roasted grapes soften and release their juices. Pour that over creamy burrata cheese and spread on crostini.
Author:
Prep Time:

10 minutes

Cook Time:

25 minutes

Total Time:

35 minutes

Category:

Appetizer

Method:

Baked

Cuisine:

American, Italian
Ingredients
¼

pound grapes, I prefer black, purple, or red

1 teaspoon

canola oil

8

-ounce ball Burrata cheese or fresh mozzarella

2 teaspoons

honey

2 teaspoons

balsamic vinegar
pepper
toasted bread, crackers
Instructions
Oven: Heat oven to 425°F.
Grapes: Rinse grapes under running water. Pat dry with paper towel. Cover baking sheet with parchment paper or silicone mat. Lay grapes on pan and drizzle with oil. Pull stems off grapes. Roast 25 minutes or until grapes are soft, wrinkled, and slumped.
Cheese: Drain Burrata ball. Place on plate. Spoon warm grapes over cheese. Drizzle honey and balsamic over. Serve with toasted bread or crackers.
Keywords: cheese dip, cheese board, easy appetizer