More than 17 easy ways to make toast irresistible
Making toast may be one of our first food memories. A swipe of butter. Or digging into the peanut butter jar to bring a hunk to the warm toast. Was making grilled cheese or garlic toast your first homemade meal?
Avocado toast, cinnamon toast, or milk toast, simple or special, we love toast. I've got some toppings below but these memories got me to thinking…
Cooking Memories
My enthusiasm for food started early. Growing up in food-rich central California, my grandparents walked us to the bakery for warm San Francisco sourdough bread. My dad harvested fish, abalone, frog legs and elk that my mom then cooked. There were regular visits to fruit and vegetable stands. Orchards and vineyard were the landscape.
I realized later that my interest in food was unique: most 10-year-olds don't pore over the Betty Crocker Cookbook for a slumber party menu. I served ice cream-stuffed cantaloupe. Turns out my guests weren't quite as excited as I was about the party food.
But I continued my interest in tasting, eating, collecting and cooking food. All that led me to study nutrition. I earned both bachelor's and master's degrees in food science and human nutrition. The combination of food and nutrition serves me well because I know how to make food taste good and still be good for me.

Food recollections
What brought you in to the kitchen?
Baking brought me into the kitchen. It was all about satisfying my sweet tooth. I kept the cookie jar filled and even won a blue ribbon at the county fair for my brownies. Unfortunately, I no longer have the recipe, but do have the ribbon. A chocolate mayonnaise cake was a family favorite. Remember Jell-O 1, 2, 3? Jello would form three layers: a creamy top layer, a mousse-like layer and a layer of Jello. I made that, too.
My hobby continues to grow. I subscribe to food magazines, listen to food-related podcasts, collect food art, develop recipes, plan travel around food, usually have a cookbook nearby that I'm reading. All these help me track food trends.
How to make Toast
That may seem so, duh.
But TOAST is a food trend. I never knew it went 'out,' but toast is in and experiencing a renaissance with cookbooks devoted to it, restaurants themed around it, bloggers writing about it and pinners pinning it on Pinterest.
Repurpose bread
From bruschetta to crostini, French toast to avocado toast, we're loving these bites as much as ever. Using dried bread is a time-honored way to repurpose food which is the best way to reduce food waste. I've written just how to do that here.
These two popular recipes are time-tested ways to use day-old bread.
Bruschetta is Italian for "roast over the coals" traditionally is garlic bread. Toasted sliced bread rubbed with fresh garlic, drizzled with olive oil, grilled, then generally topped with something.
Crostini means "little toasts" in Italian, is brushed with olive oil, toasted, then topped with something.
Bread love is all in the family
My grandparents contributed to my toast love. One grandma was known for her raisin bread. She baked it in coffee cans so the slices were round. Toasted with butter was the best.
Though it no longer comes warm from the bakery, chewy, tangy sourdough bread is still a favorite. My grandpa would serve it lightly toasted with peanut butter and honey. And that's how my sister and I still prefer it. Though now I make my own Nut and Seed Butter.
Pin it for later!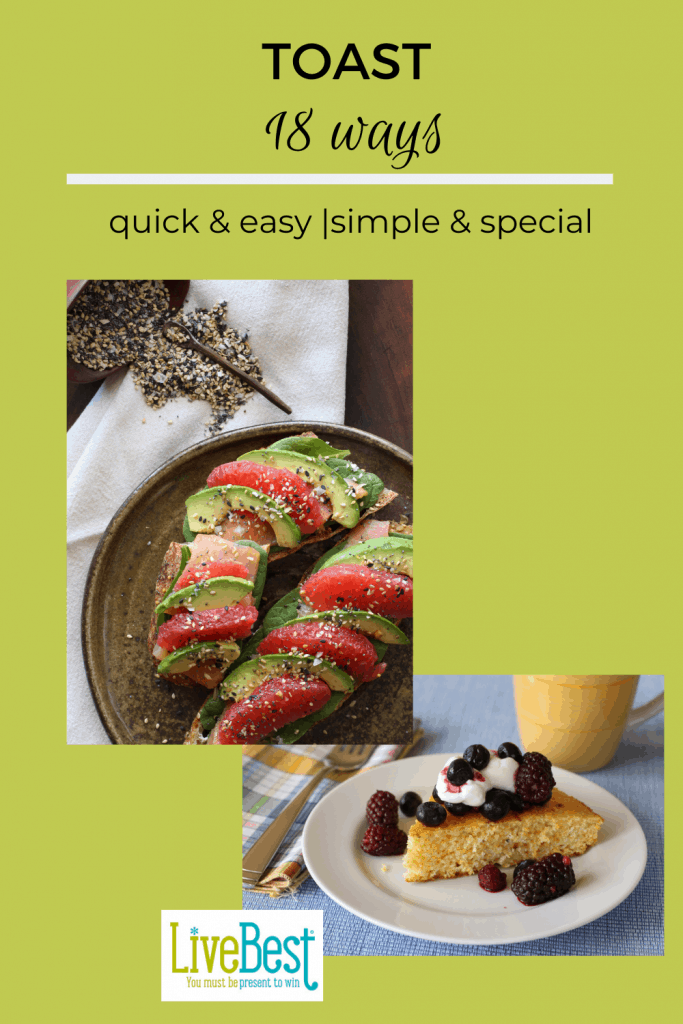 More than a dozen ways to top toast
Toast can be one of the easiest snacks ever. But it also works for any meals.
Hungry for more healthy living trends, tips and recipes? Sign up for my newsletter here.