Clean your cheese drawer to make delicious Fromage Fort. Serve hot or cold, a simple, sensational cheese dip or elegant appetizer.
If you are a cheese eater, you probably have leftover pieces that just sit there…waiting.
What to do with leftover cheese?
You think, there's really not enough to do much with the hodge podge.
STOP SCROLL
Voila! (french for there you are)
Fromage Fort, (french for strong cheese) is one way the French use leftover cheese. The beauty of this recipe is that nearly any cheese will do.
Best cheese for fromage fort
Any. Cheese. Will. Do.
The more variety, the better for this recipe. Use bits and pieces, knobs and chunks, shreds and shards of Cheddar, Swiss, Parmesan, Provolone, Fontina, Mozzarella, Camembert, goat cheese and blue cheese. I think blue cheese is a must, but a little goes a long way here. Blue can make the strong even stronger.
Last week I gathered all the odds and ends in the cheese drawer and repurposed it into a cheese dip which is also a company-worthy appetizer. I love making something out of nothing to reduce food waste so my frugal side couldn't be happier!
How to make fromage fort
The ingredients
½

pound cheese, trimmed of nonedible rind

1

garlic clove

1

–

2

tablespoons white wine
dash freshly ground pepper
dash of cayenne
Cut cheese into similar sizes.
Add wine, pepper and cayenne, blend until smooth
(Check out more recipes and tips to use what you have on hand and reduce food waste.)

How to use Fromage Fort
Fromage Fort is as versatile as it is delicious.
Serve it as a cheese dip with crackers or veggies. Snazz it up with artisan fruit crackers
Spread it on toasted bread slices and serve at room temperature.
Top a burger.
Spread it on baguette slices and then broil for a couple of minutes until the cheese is melted and bubbly.
Broil in a heat-proof dish until the top is browned.
Fromage Fort can also be frozen. Wrap it tightly, thaw in refrigerator before serving at your next soiree.
Pairs well with cocktails, such as the Grapefruit Martini.
Can you freeze fromage fort?
Yes, er, oui. Seal in a container and freeze up to 6 months. Thaw in the fridge.
How to freeze cheese
If you don't have enough cheese to make your Fromage Fort now (that's too bad!), freeze cheese in an airtight container. When you are ready to use your cheese, place the cheese in the refrigerator and allow to thaw. For the most part, frozen cheese shreds easily, but when it thaws it crumbles, which makes it perfect of this recipe. Cheese can be frozen up to 6 months.
What about mold on cheese?
Mold on cheese isn't always bad, it depends on the cheese.
Hard and semisoft cheeses sold in chunks or blocks such as Cheddar, Swiss, Muenster, Monterey Jack, Parmesan, Colby, Gouda, Asiago, Edam, Brick, and Havarti. It's safe to eat hard and semisoft cheeses that have mold on them because the mold cannot penetrate too deeply into the cheese.
Cut away at least 1 inch around the moldy area. Be careful that the knife doesn't touch the mold, then you're introducing more mold! Use a clean wrap or storage container.
Packaged shredded, sliced or crumbled cheese Throw out the entire package because the mold could have easily spread throughout the entire package of cheese, even if doesn't appear obvious.
Soft cheeses such as cream cheese, cottage cheese, ricotta cheese. It is not safe to soft cheeses that have developed mold. The mold may have spread below the surface of the cheeses.
Some soft cheeses, such as Camembert and Brie, have a mold in the rind that is not harmful and is safe to eat. But if additional mold develops on these types of cheeses you toss it.
Looking for something hardier? Use a variety of cheeses in my favorite grilled cheese sandwich. Or check out more than a dozen ways to make toast special. Use Parmesan in these easy Parmesan Pepper Crisps.
P.S. Hungry for more healthy living tips and recipes? Sign up for my newsletter here.
This post contains affiliate links. That means if you click on a link and make a purchase, I may make a small commission. This does not affect the price you pay but helps fund the website.
Pin it for later!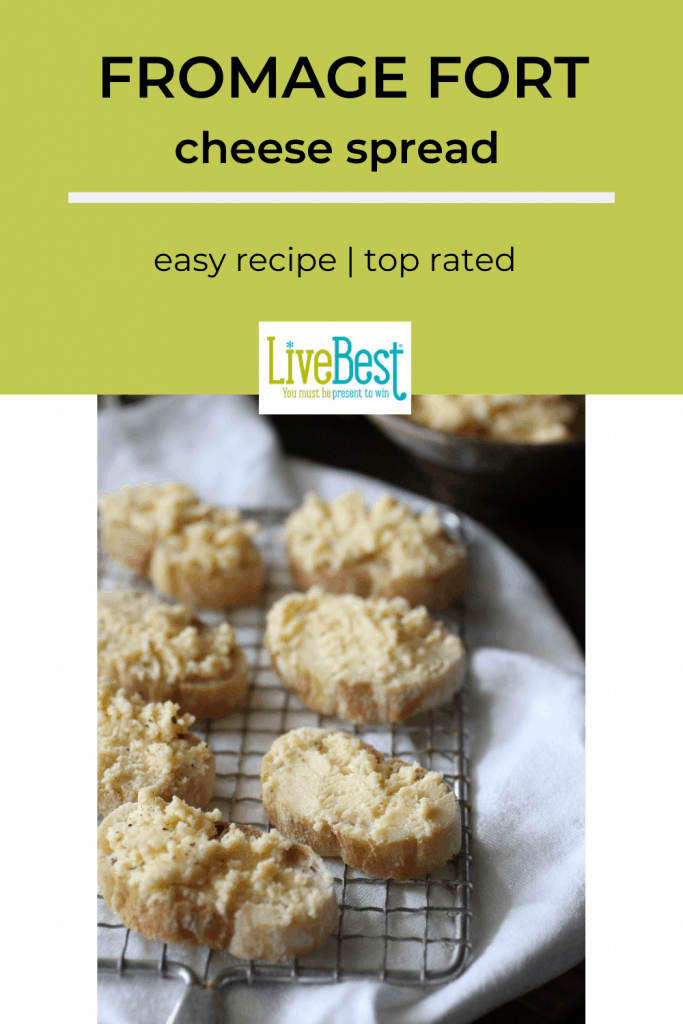 Print
Fromage Fort
Clean your cheese drawer to make delicious Fromage Forte. Served hot or cold, no one will know you repurposed cheese to make such an elegant appetizer.
Author:
Prep Time:

15 minutes

Total Time:

15 minutes

Yield:

1.5 cups

1

x
Category:

Appetizer

Method:

food processor

Cuisine:

French, American
Ingredients
½

pound cheese, trimmed of nonedible rind

1

garlic clove

1

–

2

tablespoons white wine
dash freshly ground pepper
dash of cayenne
Instructions
Cut cheese into 1/2-inch cubes and grate the hard cheeses, such as Parmesan. In a food processor, drop garlic into feed tube of running food processor to mince it. Turn off machine and add cheese. Pulse 8-10 times. Add wine, pepper and cayenne. Blend until smooth, approximately 2 minutes.
Serve immediately or refrigerate for at least 1 hour for a firmer consistency. This can be stored in the refrigerator for up to 2 weeks.
Nutrition
Serving Size:

1/4 cup

Calories:

110
Keywords: cheese spread, cheese dip, what to do with leftover cheese, easy appetizer