Lean beef, extra vegetables, and creamy yogurt keeps this classic beef stroganoff recipe on the better-for-you side.
Creamy and flavorful, Beef Stroganoff was one of my favorite meals growing up. Lean sliced beef, mushrooms and onions in a creamy sauce served over rice or noodles. My mom nailed it.
What is beef stroganoff?
Named after a Russian diplomat, Count Paul Stroganoff, I updated and lightened up this 19th-century classic. Still pieces of tender beef, but more onion and mushrooms plus celery. I traded plain yogurt for sour cream in the tangy cream sauce. It's good enough for a Count, but easy enough for a weeknight dinner.
It's no wonder this recipe remains popular. Beef, onion, celery, mushrooms and tomato are all umami-rich foods. The naturally occurring salt in these ingredients add richness to a recipe, a savory deliciousness that lingers. All the powerful flavors make this a craveable recipe.
How to make homemade beef stroganoff
Beef Stroganoff
Cook the vegetables to soften them

Cut the vegetables in uniform sizes so they cook evenly. Cook until celery is tender, about 15 minutes.

Slice beef

Slice beef into 1/4-inch slices. This is sirloin shown here. Slightly frozen meat is easier to slice. So 20 minutes in the freezer can help.

Cook beef for more flavor

Pat the beef with paper towel so it's dry. Layer in pan to let it brown. Browning caramelizes the protein and sugar which adds flavor. No need to cook it through. It will finish cooking in the sauce.

Make the sauce

Cook the seasonings and the liquid to make the sauce. Blend the liquid slowly to remove lumps and scrape up all the browned bits.

Combine the beef, vegetables and sauce

Stir together the beef, cooked vegetables and sauce to heat through, about 5 minutes.
Cook's Note: Stir the yogurt in after you take it off the heat or dollop it on individual servings. Yogurt will separate if it gets too hot.
What is the best kind of meat to use for beef stroganoff?
Beef stroganoff is a quick cooking recipe, so use a thinly sliced lean cut such as top sirloin, sirloin tip, tenderized round steak. Many recipes use ground beef.
What is stroganoff sauce made from?
Stroganoff is a beef broth gravy thickened with flour and flavored onion, celery, mushrooms, tomato paste, dried mustard. Traditionally, sour cream adds tangy creaminess. I've used plain Greek yogurt to lightened it up and trim calories.
How do you add flavor to beef stroganoff?
Beef, onion, celery, mushrooms and tomato are all umami-rich foods. These ingredients add richness to a recipe, a savory deliciousness that lingers. Umami is referred to as the fifth taste sensation (along with sweet, sour, salt, and bitter). That's probably why this recipe is still popular. All the umami flavors make craveable!
Can you freeze beef stroganoff?
Yes! This is one reason to add yogurt just when you serve it. Because yogurt won't freeze well. Well, it doesn't thaw well. So freeze the cooked beef and vegetables. Thaw, reheat and then stir in the yogurt. Cooked rice freezes well too!
MORE beef recipes:
Hungry for more? I've got 9 free delicious Good. Food. Fast. recipes to help you get dinner on the table. Sign up here.
This post may contain affiliate links which means if you click through and make a purchase, the seller pays me a commission. It does not increase the price you pay.
Pin it for later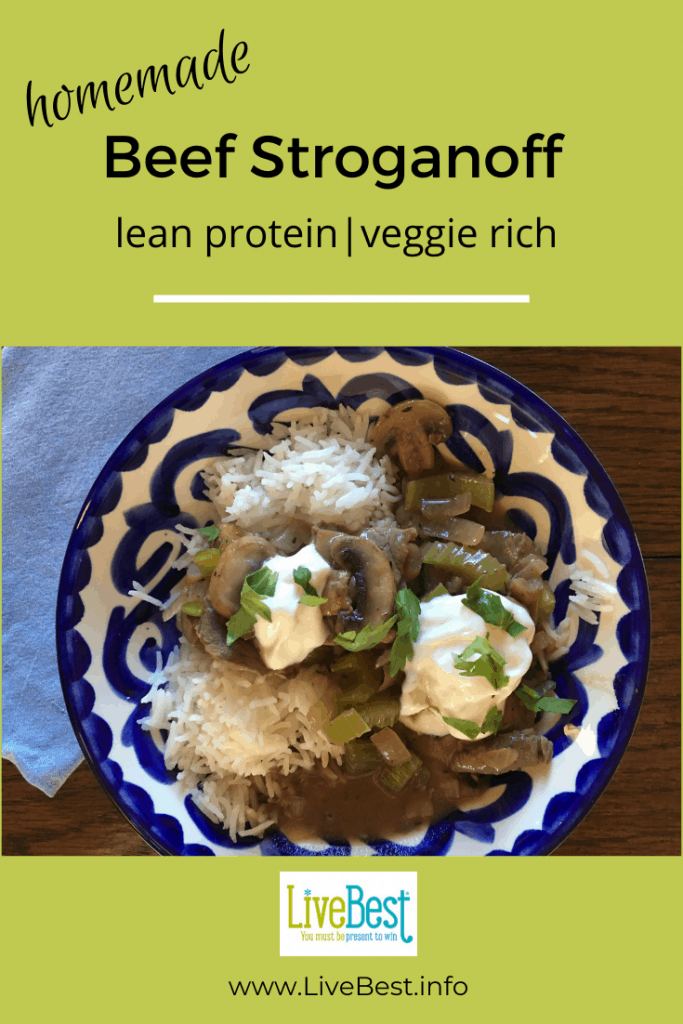 Print
How to make beef stroganoff
Lean beef, extra vegetables, and creamy yogurt keep this classic recipe on the better-for-you side. Serve over cooked noodles, rice or mashed potatoes.
Author:
Prep Time:

20 minutes

Cook Time:

30 minutes

Total Time:

50 minutes

Yield:

6

1

x
Category:

Dinner

Method:

Stove

Cuisine:

Traditional
Ingredients
3 teaspoons

oil, divided

1

onion, diced small (about

2 cups

)

6

stalks celery, sliced 1/4-inch (about

3 cups

) Save the leaves for garnish

8

-ounces sliced mushrooms

1/2 teaspoon

dried thyme

1/4 teaspoon

salt

1/4 teaspoon

pepper

1

-pound sirloin steak, cut against the grain into

1/4

-inch slices

2 tablespoons

flour

1 tablespoon

tomato paste

1 teaspoon

dry mustard

1

14.5-ounce can beef broth

1/3 cup

red wine (or water)

1/2 cup

plain Greek yogurt
Instructions
Vegetables In a large pan heat 2 teaspoons oil over medium heat. Cook onion and celery 15 minutes, until softened. Celery should be tender. Add mushrooms, thyme, salt and pepper, cook 5 minutes. Transfer to a bowl, set aside.
Beef Heat remaining 1 teaspoon oil in large pot over medium heat. Add meat, cook until browned and almost cooked through. If the pot is small, you may want to cook the meat in 2 batches, so that the meat browns rather than steams. Add meat to vegetable bowl.
Seasonings In the remaining juices in large pot over medium heat, add flour, tomato paste and dry mustard, stir and cook 1 minute. Slowly put in beef broth and wine (or water), stirring to blend, remove lumps and scare up browned bits from the pot. Sauce will begin to thicken. Add vegetables and meat and any juices, cook 3-5 minutes to heat through.
Serve over rice, cooked egg noodles or mashed potatoes, top with a dollop of plain yogurt.
Notes
Plain yogurt replaces the traditional sour cream. Add yogurt after cooking to keep it from breaking down. Top with chopped celery leaves if you like.
Keywords: beef dinner, easy dinner, good for company