Salmon Zucchini Linguini is a super quick dinner! This canned salmon recipe is ready in less than 30 minutes. No zucchini!? No problem, use what you have.
Are you grumpy and singing the moody blues? Do you feel tired and have a lack of energy?
The recent blast of winter and short days can test the best optimist, but dark moods can be signs of Seasonal Affective Disorder (SAD), a type of depression. There's an uptick between October through April when we have longer nights and avoid winter's chill by staying indoors.
Improve your mood with SAD solutions
Consider these to help improve your mood so it's not as cold and dark as the winter landscape. I'm doing several!
Light is your friend. We've know this since the second century when the physician Aretaeus prescribed that "Lethargics are to be laid in the light, and exposed to the rays of the sun for the disease is gloom." Bring light into your house with open curtains and sitting near a window with natural light. No sun? Get a dose of light therapy with a special light box that stimulates sunlight. This mood booster increases serotonin levels.
Sleep tight, just right. Darkness increases melatonin production. This hormone regulates sleep. More melatonin makes you feel sleepier so you may just want to crawl into bed. Try to keep sleep times normal with 7-8 hours per night.
Get moving. Physical activity increases positive emotions and reduces stress and anxiety. Try a new class, pop in a DVD, dance in your living room or walk outside. Just 30 minutes helps and if the sun is shining, that's a double dose of good. Being more fit can make you feel better about yourself, which is another mood lifter. Beau is my walking buddy. He nudges my elbow when it's time to go.
Connect and socialize. Good people give you energy. Invite friends to do something or call a friend to catch up to  feel happier and healthier.
Laugh. 😉 Turn that frown upside down and shake your funny bone. Laughter is a huge energizer and stress reliever. Tune in to the Comedy Channel, watch pet videos, or hang out with a fun friend.
Maximize your plate. Though some people may require medication, I promise you will not find relief in a pint of ice cream or at the bottom of a wine bottle.

What foods improve your mood?
There is no single food that treats depression but studies suggest that higher intakes of
fruit
vegetables
fish
whole grains
may be associated with a reduced depression. Some studies indicate that low levels of Vitamin D may trigger depression, others studies found no effect.
Still more research found that people who eat more fish had lower risk of depression than those who ate the least. It could be that the omega-3 fatty acids increase blood blow so help with mood and depression. These healthy fats are found in cold-water fish, flaxseed, flax oil, walnuts and some other foods.
Pin it for later!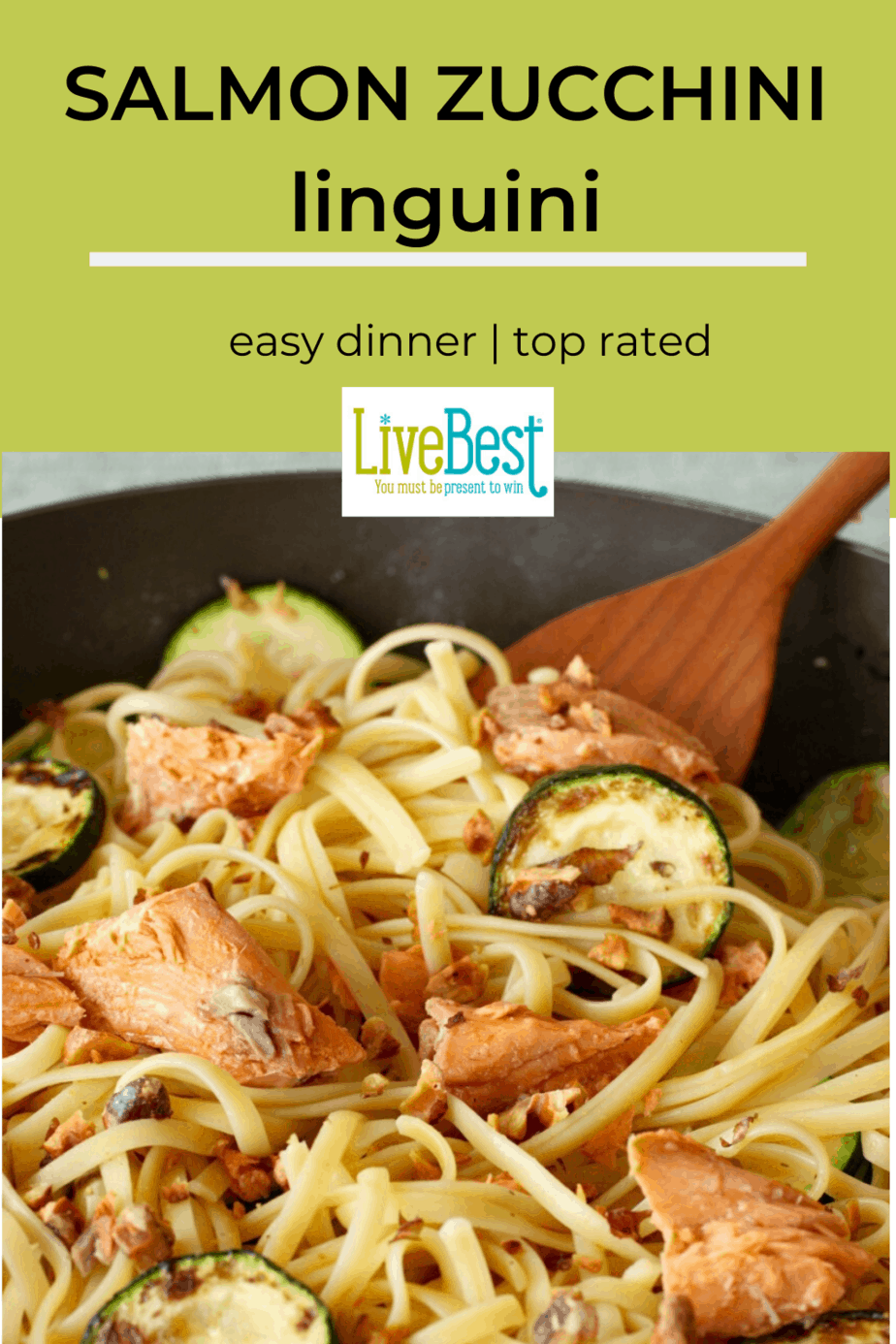 Why I like Salmon Zucchini Linguini
During zucchini season, we struggle to use it all! Here's an easy, zucchini recipe.
Slice zucchini and give it a quick sear.
Canned salmon provides all the health benefits as fresh fish plus is easy to keep on hand for a last-minute meal.
You can substitute another vegetable for the zucchini. Tomatoes, perhaps? Green beans?
It's ready in less than 30 minutes.
It fills you with foods that may keep you out of the doldrums.
Feeling like fish? You may like these delish fish tacos.
MORE healthy dinner ideas
P.S. Hungry for more how to be healthy tips and recipes? Sign up for my newsletter right here.
This page may contain affiliate links. That means if you click through and purchase something, the seller may pay me a commission. It does not affect the price you pay.
Print
Salmon Zucchini Linguini
Salmon Zucchini Linguini is a super quick dinner winner! Ready in less than 30 minutes, canned salmon makes it fast and easy. No zucchini!? No problem, sub in what you have on hand.
Author:
Prep Time:

10 mins

Cook Time:

15 mins

Total Time:

25 minutes

Yield:

4

1

x
Category:

Pasta

Method:

stove

Cuisine:

American
Ingredients
3 teaspoons

olive oil, divided

3 tablespoons

walnuts, chopped

2

8-9-inch zucchini, sliced in ¼-inch discs

3

cloves garlic, minced

1/2 teaspoon

dried red pepper

1

14.5-ounce can salmon, drained and skin removed

2 tablespoons

parsley, chopped

1 tablespoon

fresh lemon juice

1/2

pound linguini
Instructions
Bring a large pot, filled with 6 cups water, to a boil. Stir in pasta. Cook according to package directions, approximately 9 minutes. Drain pasta in a colander, reserving 1/3 cup pasta water.
Meanwhile, in a large skillet, heat 1 teaspoon olive oil over medium heat. Add walnuts and cook 5 minutes, stirring frequently. Remove walnuts from the pan and set aside in a small bowl.
Return pan to stove and add remaining oil. Cook the zucchini in batches so that it browns rather than steaming, so add half the zucchini; cook 7 minutes or so, stirring occasionally until softened and lightly browned. Remove from pan and cook remaining zucchini, adding a small amount of oil of necessary. Add garlic and dried red pepper, cook 1 minute. Add salmon, zucchini, drained pasta and reserved pasta water. Stir gently to combine and heat through.
Serve in bowls. Garnish with chopped walnuts, parsley and a squeeze of lemon juice.
Nutrition
Serving Size:

one-quarter

Calories:

510
Keywords: pasta with fish, canned fish recipe, healthier pasta, quick cook dinner
One year ago: Roasted Cauliflower Fettuccine
Two years ago: Fromage Fort
Shop the Post
Beau wears a collar with his name and our phone number. It works! We've had calls when he decided to go on a "walk about." Something like this.