Perfect for 2 or 30, tuck lemon, herbs, garlic, capers, and spices around this easy baked lemon chicken.
"Dining with one's friends and beloved family is certainly one of life's primal and most innocent delights, one that is both soul-satisfying and eternal," said Julia Child.
She must have been a fly on the wall, because that sums up our recent family reunion.
Some remember a family gathering about 50 years ago but otherwise, funerals brought some of us together. We all agreed a reunion was a lot more fun.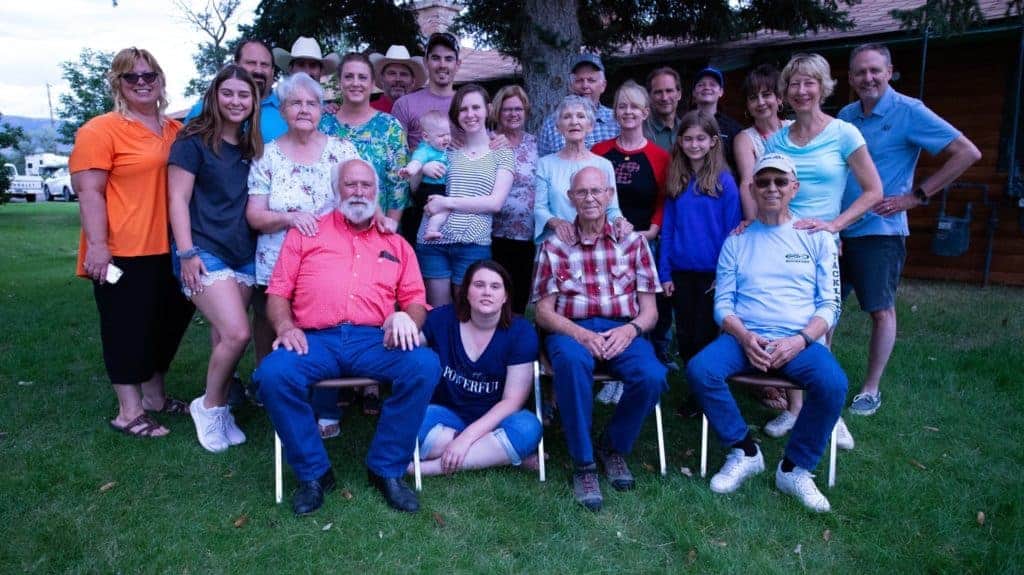 How to have a family reunion
Enlist your cousins to plan and execute.
Apply pressure to those reluctant to attend. It builds excitement to hear who is coming.
Keep the schedule loose enough to allow some down time. Some people need a nap while others need a Target fix.
Get a sound system. Microphones and speakers help the stories everyone wants to hear be heard.
Label cups so everyone feels connected + reduces trash. I labeled plastic Solo cups and used a label maker
Recognize the stars are the oldest and the youngest. In our case, this was the three patriarch sons and an 8-month old happy baby.
Gather round the table to hold hands and be grateful that you can share this soul-satisfying event.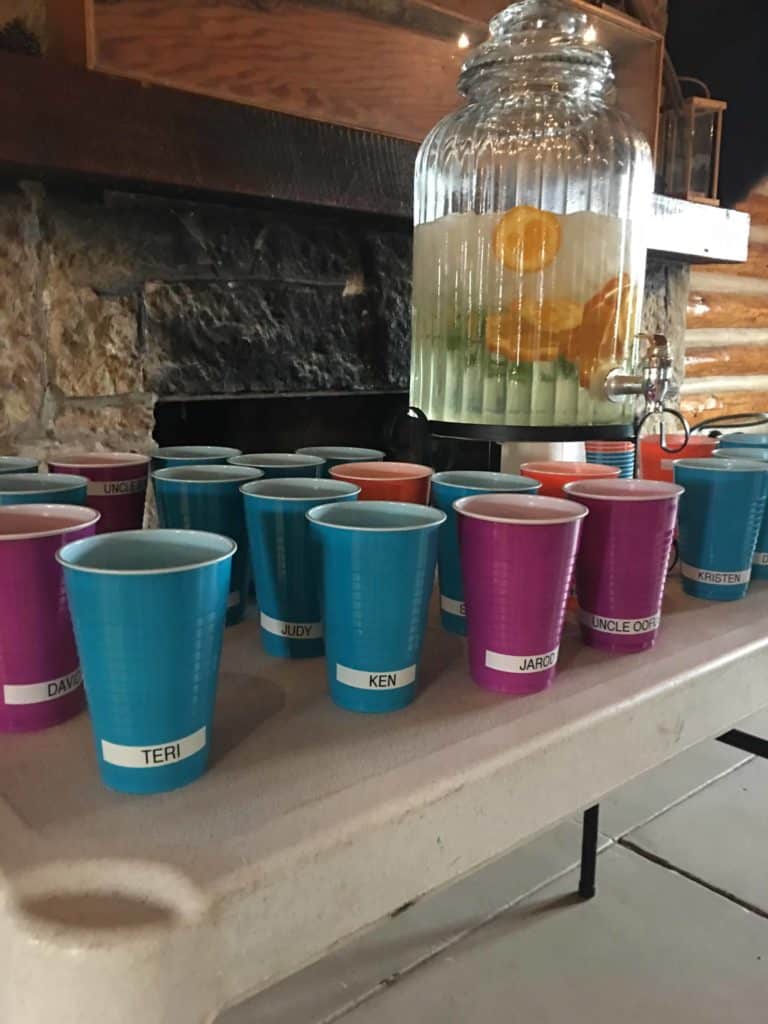 We compared notes on the last 50 years. We realized we shared eyes, lips, and hips. But more, we came away knowing that there are people in the world who cared about us and whom we cared about in a forgotten sort of way.
But after all the catching up it was time to eat.

What to serve at a family reunion
Over the course of the reunion we served a welcome dinner, early bird coffee, lunch, dinner, brunch and dinner.
We divided the menu by family. One took a dinner (spaghetti, garlic bread, and salad), another a lunch (make-your-own sandwich bar, fresh fruit). We all brought a few dozen homemade cookies, brownies, and cupcakes. These were dessert and something to nibble on throughout the reunion. We provided 3 beverage dispensers, one with tea, one with lemonade, and one with water infused with fresh mint and orange slices.
Our family was responsible for a dinner and brunch for about 30. Since there's usually just 2 of us around my table, this took some thought and refrigerator and freezer space. We all agreed that hosting a reunion required all the planning committee to clean out their fridges! I wanted recipes that could be made ahead or at least didn't require a lot of last minute prep.
Reunion Brunch Menu
Brunch included an asparagus egg casserole, turkey and spinach egg casserole, hash brown casserole, yogurt, granola, berries, coffee cake, and biscuits with our homegrown honey.
Reunion Dinner Menu
Dinner was baked chicken, roasted new potatoes, corn casserole, and green salad with fresh fruit.
I planned on 2 pieces of chicken per person. I watched for a sale on chicken thighs and wings, so this main dish cost about $25. We roasted 10 pounds of new potatoes that cost around $8.00. I bought a 6 pound, 10-ounce can of corn from Sam's Club for about $8.00 and that turned out was more than I needed. Disposable aluminum pans made clean up easy.
Baked Lemon Chicken
This recipe is an easy, delicious dinner solution, for 2 or 30.
The dark meat legs and thighs are more forgiving than leaner chicken breasts which dry out if overcooked.
Baked Lemon Chicken is a one-pan meal. For the reunion I used disposable aluminum pans for easier cleanup.
Talk about easy…scatter herbs, tuck lemon slices, and sprinkle capers. I did this a day ahead to save time, then baked before dinner.
When you bring it to the table, it smells so good, and the flavors are just about as Mediterranean as you can get.
The Ingredients
chicken, legs and thighs
garlic
lemons
capers
olive oil
dried thyme, dried rosemary
fresh parsley, if you have it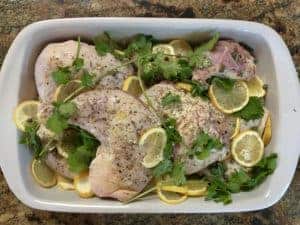 Cook's Note: Chicken thighs and legs are moist and flavorful. Plus they don't mind if you get back to them 30 minutes late. They're just soaking up flavors and getting more tender.
Other serving ideas are carrots, green beans, broccoli, or this one-pot Tomato and Spinach Pasta served at room temperature.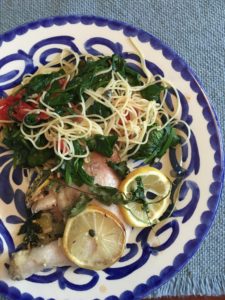 MORE family reunion recipes
P.S. Hungry for more healthy living tips and recipes? Sign up for my newsletter here. 
This post may contain affiliate links which means if you click through and make a purchase, the seller pays me a commission. It does not increase the price you pay.
Pin it for later!
Print
Baked Lemon Chicken
Lemon, garlic, capers and spices flavor this easy roast chicken.
Author:
Prep Time:

10 minutes

Cook Time:

75 minutes

Total Time:

1 hour 25 minutes

Yield:

6

1

x
Category:

Dinner

Method:

Oven

Cuisine:

Mediterranean
Ingredients
Baked Lemon Chicken
3

pounds chicken, quarters (legs and thighs)

3

garlic cloves, minced

2

lemons, sliced

1 tablespoon

capers

2 teaspoons

olive oil

1/2 teaspoon

salt

1/2 teaspoon

fresh pepper

1/4 teaspoon

dried thyme

1/4 teaspoon

dried rosemary
handful fresh parsley if you have it
Instructions
Heat oven to 350°F.
Place chicken in 9 x 13" baking pan. Scatter ingredients over chicken then massage them over all the chicken.
Bake 1 hour 15 minutes until chicken reaches 165°F. as measured by food thermometer. Check the internal temperature in the innermost part of the thigh and wing and the thickest part of the breast.
Keywords: one pot, baked chicken, Mediterranean diet