Good food doesn't need to be complicated. Tomato Spinach Saute is an easy recipe with healthy dividends. This vegetarian recipe is ready in 15 minutes. Serve over pasta or with eggs or baked fish.
✅Fast and flavorful.
✅Healthy and hearty.
✅Economical and easy.
✅Happy and healthy.
However you want to say it, Tomato Spinach Sauté is all that and more! As many of us seek more plant-based recipes, this is one of my go-to recipes. Filled with Mediterranean flavors, these are the good carbs to eat. 
Are vegetables good for you?
Yes! With vitamins and minerals, fiber, and beneficial phytochemical, vegetables are good for us. But emerging research suggests that eating more fruits and vegetables improves happiness, satisfaction, and emotional well-being. People who ate fruits and vegetables 6 to 7 times in a week reported greater life satisfaction than those who ate fewer. They reported feeling better about themselves, feeling confident that they are maintaining their health, and having more energy. Sign me up!
If six servings feels overwhelming, try for one more serving than you currently eat. It may be that your key to happiness is in reaching for an orange or a tomato.
Tomato nutrition
It's true that tomatoes shine in late summer during harvest, but the red cherry and grape tomatoes available year round are worth buying. As a rule, the smaller the tomato, the more flavor and lycopene it has. Cooked with a little oil, the nutrients become more available for your body to use them.
Fresh and canned tomatoes improve health by reducing the risk of heart disease and cancer. Tomatoes are high in potassium which helps blunt the effect of sodium on blood pressure. So tomatoes lead to healthier blood pressure. To be sure, all tomatoes deliver benefits but these tips can help you maximize your health:
Red tomatoes have more lycopene and overall better-for-you plant compounds than yellow or green tomatoes.
Smaller tomatoes, such as cherry and grape, have more lycopene than larger tomatoes.
Oil helps your body absorb the tomato's potent antioxidants and olive oil appears to have an edge over other oils.
Canned tomatoes, including tomato paste and sauce, are some of the richest sources of lycopene because cooking increases lycopene and makes it easier to be absorbed.
Cook's note: I keep canned tomatoes on hand. They are a convenient, economically and delicious way to boost vegetables consumption.
Spinach is a leafy green to love ❤
Packed with lutein, folate, potassium, iron and vitamins A, C, E and K, spinach is a leafy green to choose often. Going with this green strengthens our cells against cancer, heart disease, high blood pressure, and bone loss plus enhances vision.
So, let's get to cooking! To make this easy spinach tomato sauce, slice (or poke them with a knife tip) the tomatoes to reduce cooking time and release juices. Red chile flakes and a smashed garlic clove add seasoning. Stir in fresh spinach and you're serving, from one pan, in less than 15 minutes.
How to smash garlic to get the most health benefits
Place the clove on the cutting board. Lay the flat part of a knife blade (sharp edge away from you) on top on the clove, then hit the knife with the heel of your hand. I use a Chef's knife because of the wide blade. This releases the compounds that give garlic its pungent flavor and healthful benefits. Let the clove rest for 10 minutes before cooking, to allow those compounds to work and you maximize the healthy benefits.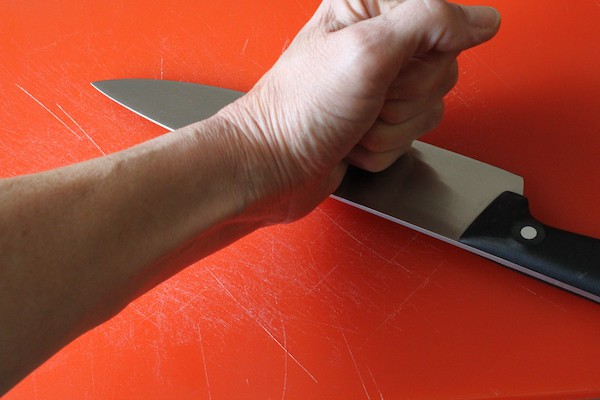 With a few more fruits and vegetables you will feel better now and in the future. Satisfaction guaranteed when you feed your body what it needs. A serving of healthy food is a good way to say "I love you." This recipe is a winner at that.

More LiveBest spinach and tomato recipes
P.S. Hungry for more healthy living tips and recipes? Sign up for my newsletter here.
Pin it for later!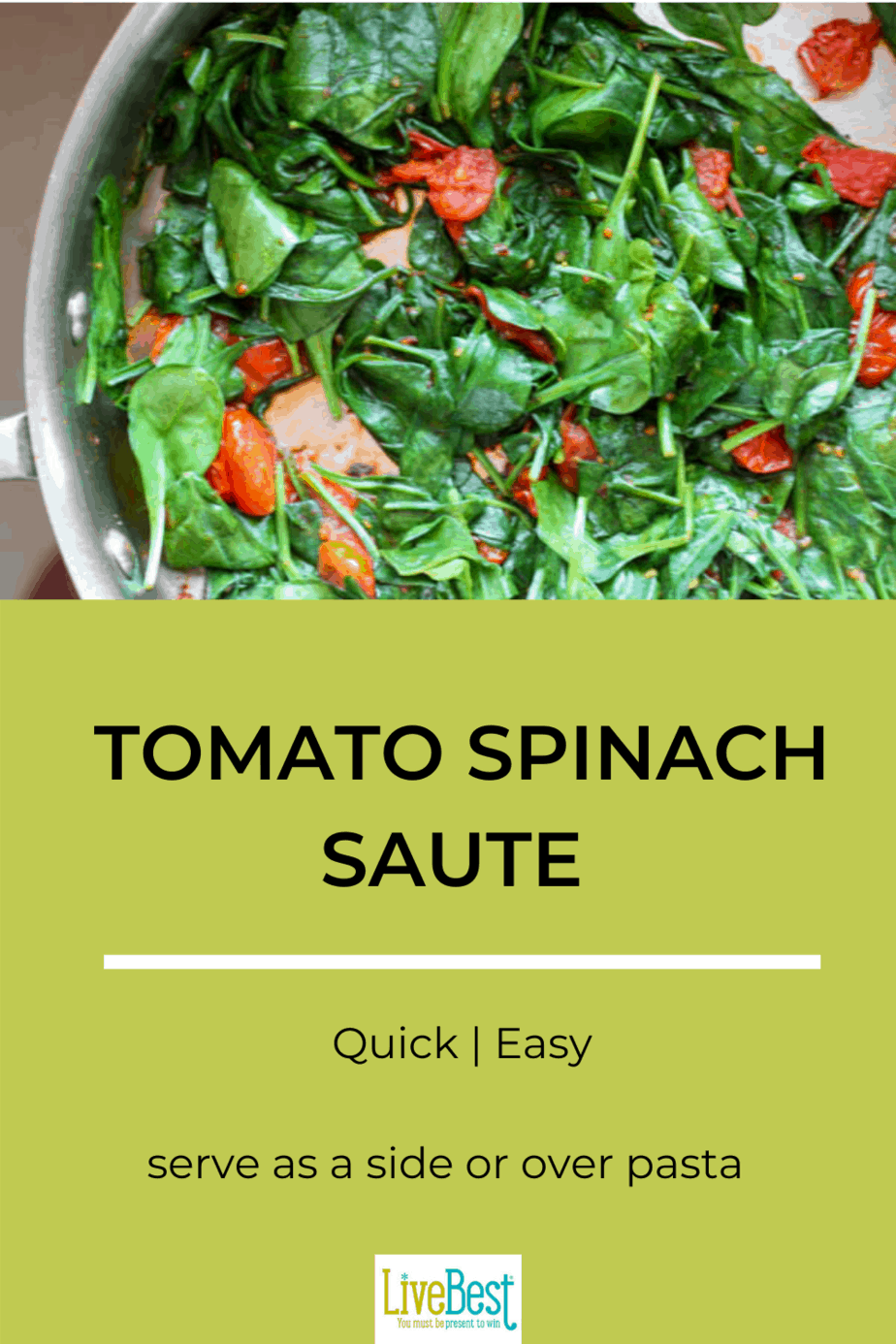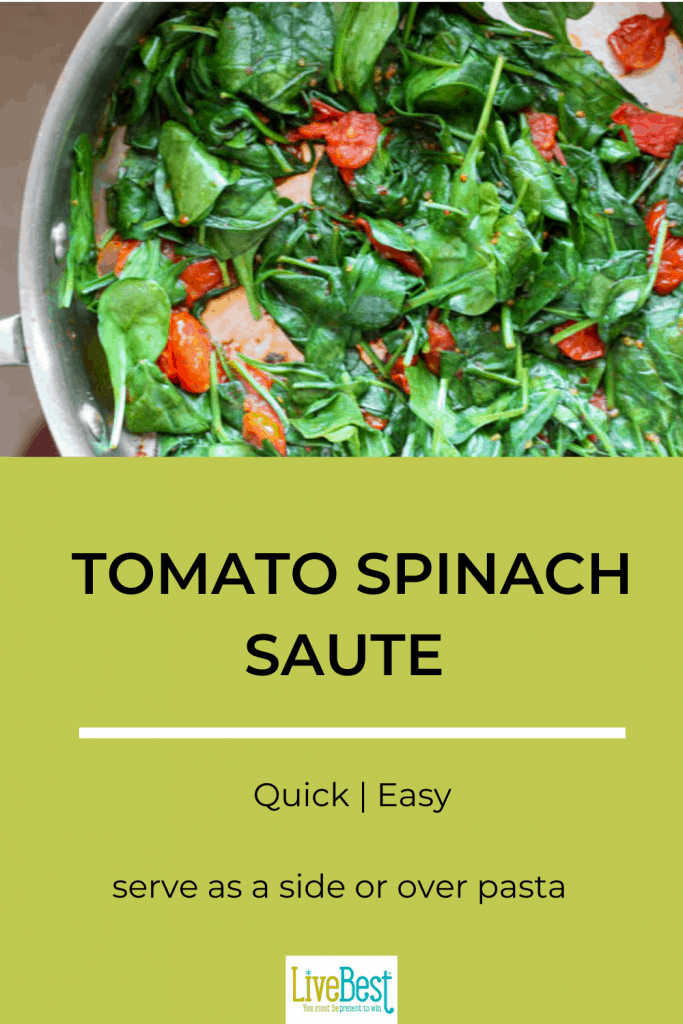 Print
Tomato Spinach Saute
Good food does not need to be complicated. Tomato Spinach Saute is an easy recipe with healthy dividends. This vegetarian recipe is ready in 15 minutes. Serve over pasta, with eggs or baked fish.
Author:
Prep Time:

5 mins

Cook Time:

15 mins

Total Time:

20 minutes

Yield:

2

1

x
Category:

Side

Method:

stove

Cuisine:

American
Ingredients
2 teaspoons

olive oil

1

garlic clove, peeled, smashed

1/8 teaspoon

salt

1/8 teaspoon

freshly ground black pepper

1/8 teaspoon

red chile flakes

1 cup

grape tomato, halved lengthwise

4 cups

fresh spinach

1 teaspoon

lemon juice
Instructions
Wash your hands.
Smash the garlic clove (allow to rest 10 minutes).
Pour olive oil in a large skillet over medium heat. Add garlic clove, salt, pepper, chile flakes and tomatoes. Cook until tomatoes are soft, about 10 minutes. Add spinach and lemon juice, stir until wilted, scraping up the browned bits in the bottom of the pan, about 3 minutes. Serve.
Notes
Cook the spinach about 75%, until some are wilted and others still have some structure.
Nutrition
Serving Size:

half the recipe

Calories:

80
Keywords: easy vegetable, healthy vegetable dish, how to cook spinach
This post contains affiliate links. That means if you click on a link and make a purchase, I may make a small commission. This does not affect the price you pay.