Korean noodles are full of flavors and foods that deliver healthy benefits such as probiotics. A vegetarian spicy noodle bowl in less than 30 minutes.
With cold and flu season upon us, the best defense may be good gut health. Since much of our immune health begins in the gut, this recipe is about bolstering gut health. 
What is Gut Health?
This is one hot topic! The National Institutes of Health is conducting a Human Microbiome Project to examine the role gut bacteria plays on health and disease. It's not yet well understood, but research suggests that bacteria may play a role in developing diabetes, ulcerative colitis, Crohn's disease, type 2 diabetes, obesity, cancer, allergies and rheumatoid arthritis.
What is Microbiome?
Each of us has a different mix of bacteria, which in turn influences our health. Food choices, physical activity, lifestyle, environmental factors, and even the way you were born, impact a person's microbiota which make up the microbiome. Essential for health, they produce vitamins, break down food into the nutrients we need, teach our immune system how to recognize invaders and produce compounds that help fight off disease-causing bacteria.

What are Probiotic foods?
Here's where food comes in. Probiotic foods have "good" bacteria that help keep a healthy balance in your gut. Specifically, foods rich in fiber and plant compounds (the following links take you to more recipes) such as whole grains, fruits, vegetables, nuts, and legumes (split peas, black beans, pinto beans, and lentils) satisfy the gut bacteria. Fermented foods and those with live, active cultures such as yogurt, kefir, miso, kimchi, and unpasteurized sauerkraut and pickles (found in the refrigerated section at the grocery store) contain beneficial bacteria which helps keep the gut healthy.
Because these foods are so valuable in helping you livebest, I created a free, 5-day challenge you can join by clicking this link. You'll get tips and tools, resources and recipes to create your own roadmap to meet your fiber goals. Don't ya? Won't ya? Seriously, it's only 5 days 😉
Korean Noodles delivers some of the goods.
Why I like Korean Noodles
This isn't "pasta as usual." The flavors are robust and the ingredients feed your gut bacteria.
It's full of dark green, leafy vegetables. A type many of us fall short on, these are powerful vegetables with potassium, folate, fiber, and carotenoids that help with cancer protection.
In less than 30 minutes and one cooking pot, you have a meal that is full of flavor and delivers healthy benefits.
Maximize the health benefits of garlic
Chop garlic 10 minutes before cooking. Allicin is the ingredient in garlic that's responsible for garlic's flavor and health benefits. But it's shy. Allicin only becomes available when a protein and a heat-sensitive enzyme are released. Cutting (or pressing or chopping) garlic triggers the reaction. This is also what gives garlic it's flavor and aroma and why it's sometimes called the "stinking rose." Just 10 minutes without heat allows the components time to reach their potential.
How to store garlic, fresh ginger, sesame seeds and sesame oil
Garlic Choose a fresh bulb. The paper should be tight, not dry, frayed or shedding. A green sprout can indicate age. Store it in a dry, ventilated area. I use a fabric lined basket.
Ginger Fresh ginger should look, well, fresh, not wrinkled and shriveled. It can be stored in the refrigerator or frozen in an air-tight container. I usually peel before using, though ginger with light skin may not need peeled.
Sesame Seeds Store sesame seeds in the fridge or freezer.
Sesame Oil Store oil in the fridge to keep it fresh. Remove 15-30 minutes before using.
Leftover pasta? Repurpose it with eggs and cheese.
Here are more healthy foods that feed those gut bacteria:
P.S. Hungry for more healthy living tips and recipes? Sign up for my newsletter here.
Pin it for later, share it on Facebook, or rate it below, please!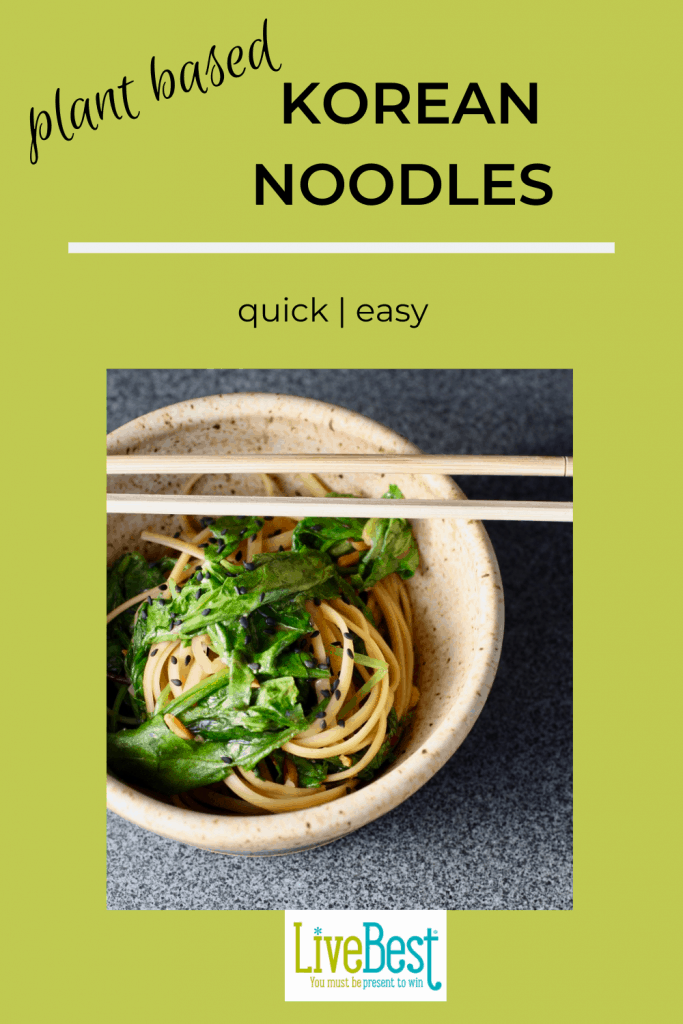 Print
Korean Noodles
Korean Noodles isn't "pasta as usual!" In less than 30 minutes, robust flavors with good-for-you foods.
Author:
Prep Time:

15 minutes

Cook Time:

10 minutes

Total Time:

25 minutes

Yield:

2

1

x
Category:

Dinner

Method:

stove

Cuisine:

Korean
Ingredients
2 tablespoons

soy sauce

2 teaspoons

sugar

2 teaspoons

canola oil

1 tablespoon

ginger, finely chopped

2

garlic cloves, finely chopped

2

green onions, thinly sliced

1 tablespoon

peanut butter

2 tablespoons

chile paste or gochujang

2 tablespoons

raisins

1/4 cup

water

16 ounces

dark greens, such as kale, spinach, Swiss chard (can be a combination)

8

-ounces linguini

1 teaspoon

 sesame oil

1 teaspoon

sesame seeds, toasted
Instructions
Chop: ginger, garlic and green onions, set aside. In a small bowl combine soy sauce and sugar. Set aside
Noodles: Cook linguini according to package instructions, minus 2 minutes. You want to undercook the pasta here because you'll cook it more later. Drain, reserving 1/2 cup pasta cooking water – add raisins to the 1/2 cup water, set aside.
Sauce: Using the large pot that the pasta was cooked in, over medium heat, heat 2 teaspoons canola oil. Add garlic, ginger and green onions, cook 3 minutes to soften. Add peanut butter and chile, cook 2 minutes. Add greens, stirring constantly, cook until about a third of the greens are softened. Add soy sauce mixture, pasta, raisins and water. Drizzle with sesame oil. Stir together. Sprinkle with sesame seeds.
Notes
Toast sesame seeds in a dry skillet over medium heat for 3-5 minutes. Stir occasionally. ? Watch them closely, they are small so can burn before you know it! You should smell a toasted aroma when the seeds are finished. Remove from heat and set aside to cool.
Store your sesame seeds in the freezer and sesame oil in the fridge.
Nutrition
Serving Size:

2 cups

Calories:

510
Keywords: noodle dish, one dish meal
Shop the post
Here's a handy list for some of the tools I use.
This is one of my favorite knives.
I store onions, garlic and shallots in fabric-lined baskets.
This post contains affiliate links which means if you click through and make a purchase, the seller pays me a commission. It does not impact the price you pay.