A Mediterranean salad in 20 minutes with grilled lettuce, beans, olives, feta, tuna, and cucumber with yogurt and herb dressing.
Do you know the number one reason one food is chosen over another?
Taste.
Yep. It drives our food choices over everything else including price and nutrition.
How to make food taste better? Herbs!
To make your food tastier, herbs are a cook's secret weapon – taking drab to fab, dull to dynamite. With all that yummy flavor you may find you need less salt, sugar or fat. But it's not just flavor. Herbs have concentrated plant compounds that reduce inflammation so are health boosters.
Now we're talking! Taste and health 😉

Herbs make healthy cooking easier
Herbs are one of the easiest plants to grow. I am so grateful that parsley, tarragon, oregano, sage and chives show up in my yard year after year. That gratitude continues when I snip a few leaves to easily brighten recipes.
Parsley does more than decorate a plate. With its celery–like flavor, I toss it with lettuce in salads, add it to Taboulleh and sprinkle it on potatoes. I prefer the stronger flavor of Italian flat-leaf parsley rather than curly varieties.
Tarragon flavors include licorice, fennel and anise. These flavors are great in vinegars and oils, salad dressings, carrots, cauliflower, chicken and fish. Dijon Vinaigrette
Oregano is a favorite in Greek and Italian dishes. It goes well with tomato sauces, feta cheese, Kalamata olives, eggplant, capers and anchovies.
Sage has a hearty flavor so a little goes a long way. Pair sage with potatoes and white beans, roasted and braised meat and poultry, pumpkin and butternut squash, like Mushroom Ravioli with Squash and Browned Sage Butter.
Chives are onion's delicate cousin. They complement cucumbers, potatoes, eggs, fish and seafood. Blue Cheese Chive Dip  or Curried Egg Salad
Once harvested, herbs don't last long, 3-4 days. That's why is so nice to have a plant growing steps from the kitchen. The convenience also means you will use them more often. Most of these plants prefer warm temperatures, so they keep best in water and room temperature – like a flower bouquet.
How to make Grilled Mediterranean Salad and Creamy Herb Dressing
Just writing that title makes my mouth water. And this dressing is an herbal favorite.
Chop fresh herbs in food processor. Herbs are a challenge to measure. I used a 1/4-cup dry measure cup to gauge quantity. It was close to a quarter cup. I used basil, parsley, chives, tarragon, and thyme. Go ahead and try other herbs that you grow or like. Basil, is one of my favorite flavors, so it was my first choice.
Cook's note: Make sure your herbs are dry. If the cutting board is green, you're leaving flavor.
The ingredients
1/4 cup basil
1/4 cup parsley
2 tablespoons chives
1 tablespoon tarragon
1 teaspoon thyme
1/4 cup plain yogurt
2 tablespoons olive oil
2 tablespoons lemon juice
1 teaspoon water
1/2 teaspoon salt
1/4 teaspoon pepper
1 5-ounce can tuna, drained
1 16-ounce can, garbanzo beans, drained
1 cup cucumber, sliced
1/2 cup Kalamata olives, drained, sliced
1/2 cup feta cheese, diced
2 heads Romaine lettuce
Grilled Romaine adds a smoky flavor. Cut the head of lettuce in half lengthwise. Spray lightly with cooking spray or brush lightly with oil. Over medium heat, grill 4-5 minutes, turning every minute, until you see a light char.
Pour dressing over grilled greens.
Make a meal by adding canned tuna, garbanzo beans, cucumber, Kalamata olives and feta cheese.
The beans in this recipe add fiber. Are you ready for a challenge? Your own fiber challenge? I created a free, 5-day challenge you can join by clicking this link. You'll get tips and tools, resources and recipes to create your own roadmap to meet your fiber goals and make high fiber meals. Don't ya? Won't ya? Seriously, it's only 5 days 😉 Find it right here.
Favorite herb recipes
One of my favorite ways to use herbs is to stuff them between the skin and breast meat and inside the cavity of a chicken before roasting.
I also chop a handful of a variety of herbs and mix with a couple tablespoons of kosher salt to sprinkle on popcorn or cooked carrots and potatoes.
Pin it for later!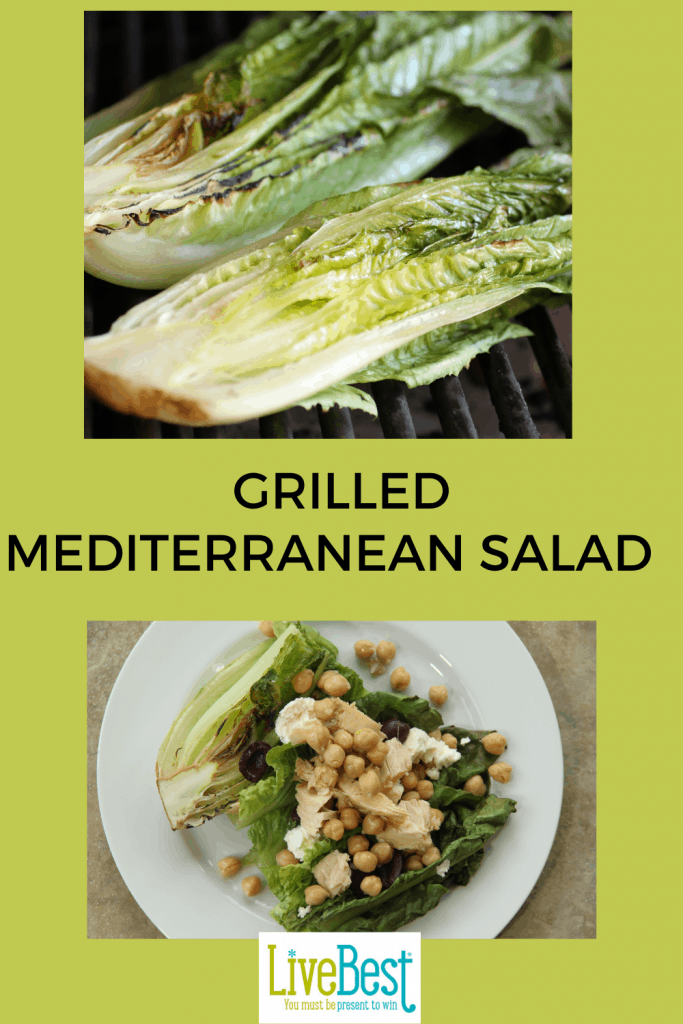 MORE Mediterranean diet recipes
Print
Grilled Lettuce Mediterranean Salad with Creamy Herb Dressing
Taking on the Mediterranean in 20 minutes with beans, olives, feta, tuna, cucumber with yogurt and herb dressing spilling over grilled Romaine… A grilled Mediterranean Salad.
Author:
Prep Time:

15 mins

Cook Time:

5 mins

Total Time:

20 minutes

Yield:

4

1

x
Category:

Salad

Method:

grill

Cuisine:

Italian
Ingredients
1/4 cup

basil

1/4 cup

parsley

2 tablespoons

chives

1 tablespoon

tarragon

1 teaspoon

thyme

1/4 cup

plain yogurt

2 tablespoons

olive oil

2 tablespoons

lemon juice

1 teaspoon

water

1/2 teaspoon

salt

1/4 teaspoon

pepper

1

5-ounce can tuna, drained

1

16-ounce can, garbanzo beans, drained

1 cup

cucumber, sliced

1/2 cup

Kalamata olives, drained, sliced

1/2 cup

feta cheese, diced

2

heads Romaine lettuce
Instructions
Rinse and trim herbs of tough stems, pat dry. Place herbs in food processor. Chop to break up. Add yogurt, olive oil, lemon juice, water, salt and pepper, process for one minute, stopping to clean sides of food processor with rubber scraper.
Gently mix together tuna, garbanzo beans, cucumber, olives and feta. Set aside.
Cut Romaine in half lengthwise. Spray lightly with cooking spray. Grill over medium for 4-5 minutes, turning every couple of minutes. You want to just soften and lightly char the lettuce.
Top Romaine with tuna-bean mixture. Drizzle dressing over top.
Nutrition
Serving Size:

1/4 salad

Calories:

375
Keywords: how to grill lettuce, how to cook with herbs, main dish salad