Fast, flavorful, homemade marinara sauce recipe tops pasta, pizza and bruschetta. Secret ingredients? Anchovies and tomatoes deliver flavor and healthy dividends!
Fast and flavorful, this is a super easy recipe that is ready in 20 minutes. Tomatoes and anchovies provide lots of flavor and healthy dividends. Now, don't turn up your nose to the idea of anchovies! They are…
Anchovies are a cook's secret weapon
The tiny, salty fish are a cook's secret weapon because of the rich flavor and health benefits they deliver.
Fish is a fat with omega 3 benefits
The fat in fish is the good-for-you-kind.
Omega-3 fatty acids are fats our bodies need for optimum health. Omega-3s, from eating salmon and other oily fish, offer protection against heart attack, stroke, cancer, and inflammatory diseases such as rheumatoid arthritis. It does this by thinning the blood and preventing it from sticking to your artery walls. That in turn may help lower the risk for blocked arteries and heart attacks.
These fats help build better brain cells and keep them functioning. Fact is, evidence suggests that they're also good for our mental and emotional health. Populations who eat more fish seem to suffer less depression and mood disorders including seasonal affective disorder. The American Psychiatric Association agrees, saying that omega -3s are important when treating depression.
About 8-ounces of fish per week is a good target. Even better? Use healthful cooking methods such as baking, broiling, poaching, or steaming, not frying.
Which fish are high in Omega 3
Fish that have to work hard in cold water and travel long distances have higher amounts of omega-3s. Seafood and fatty fish such as wild salmon and canned sockeye salmon, anchovies, herring, albacore or skipjack canned tuna, sardines, and trout, are some of the best sources. Farmed fish such as tilapia and catfish have them but the omega-3s are lower. Check out this chart to see where fish rank.
Anchovies make the list of hard workers. They have short life spans and reproduce quickly, so are resilient to fishing pressure and remain plentiful. Another benefit is their convenience. Cans and jars are small, but anchovies are big on flavor. Once opened, they can be refrigerated for at least two months if covered with oil and sealed airtight.
Some people love the salty flavor, others, not so much. To lessen the saltiness in anchovies, soak them in cool water for about 30 minutes, then drain and pat dry with paper towels.
Now let's talk tomato nutrition
It's true that tomatoes shine in late summer, but the red cherry and grape tomatoes are always worth buying. As a rule, the smaller the tomato, the more flavor and lycopene it has. Cooked with a little oil, the nutrients become more available for your body to use them.
Fresh and canned tomatoes improve health by reducing the risk of heart disease and cancer. Tomatoes are high in potassium which helps blunt the effect of sodium on blood pressure. So tomatoes lead to healthier blood pressure.
To be sure, all tomatoes deliver benefits but these tips can help you maximize your health:
Red tomatoes have more lycopene and overall better-for-you plant compounds than yellow or green tomatoes.
Smaller tomatoes, such as cherry and grape, have more lycopene than larger tomatoes.
Canned tomatoes, including tomato paste and sauce, are some of the richest sources of lycopene because cooking increases lycopene and makes it easier to be absorbed.
Oil helps your body absorb the tomato's potent antioxidants and olive oil appears to have an edge over other oils.


Seafood solution, a favorite find

I've heard from readers that they get confused when they try to buy fish. To make sure I have fish on hand, I've been ordering fish for home delivery via Vital Choice, an online retailer selling wild-caught, sustainably harvested Alaskan salmon and northwest Pacific seafood such as halibut, tuna, shrimp, and lobster. I ordered anchovies to give as gifts and to use in this recipe!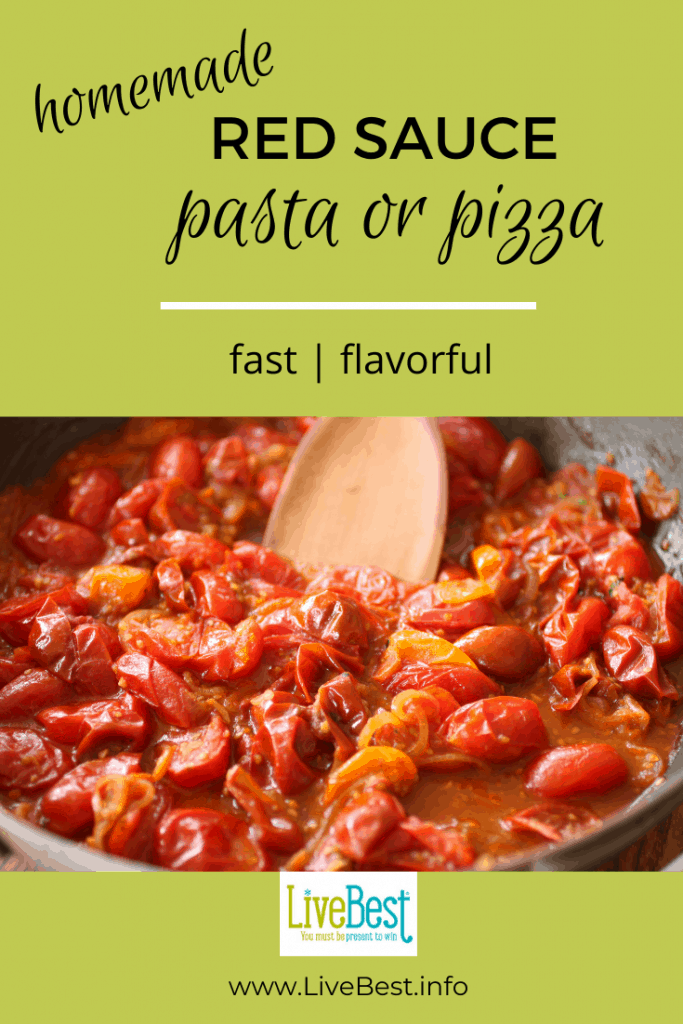 All this is why I love this fast, flavorful red sauce recipe
Tomatoes and fish. Quick and easy. That's why I love this sauce!
It's an easy way to try anchovies — cooked into pasta sauce. The anchovies melt into the sauce so you don't see them.
Try adding them to jarred tomato sauces, stir them into scrambled eggs, or blend them into salad dressings. Few people will recognize the flavor, but they'll be amazed at what a good cook you are.
MORE Mediterranean diet recipes
P.S. Hungry for more healthy diet tips and recipes? Sign up for my newsletter here.
This post contains affiliate links. That means if you click on a link and make a purchase, I may make a small commission. This does not affect the price you pay but helps fund the website.
Print
Fast Flavorful Red Sauce
This recipe is good as a pizza topper and served over pasta.
Author:
Prep Time:

5 minutes

Cook Time:

15 minutes

Total Time:

20 minutes

Yield:

2

1

x
Category:

Dinner

Method:

stove

Cuisine:

Italian
Ingredients
2 teaspoons

olive oil

2

garlic cloves, finely chopped

1

shallot, thinly sliced

6

anchovy fillets

2 cups

cherry tomatoes, halved (or

14.5 oz

can diced tomatoes)

1/4 teaspoon

red pepper flakes

1/2 teaspoon

dried oregano or basil
Instructions
Heat oil in large skillet over medium heat. Add garlic and shallot, cook, stirring occasionally, 3 minutes. Add anchovies, stir to break apart. Add tomatoes, red pepper flakes, and oregano or basil. Cook and stir occasionally 10 minutes.
Nutrition
Serving Size:

1 cup

Calories:

125
Keywords: pasta sauce, which fish are high in omega 3, how to add flavor to pasta sauce, are anchovies good for me