Robust, flavorful ingredients make Puttanesca Sauce one of my favorites. Puttanesca is an easy heat-n-eat sauce.
Do you want to know one of my secret ingredients? The one that kills on flavor?
But first, imagine you're seated in an old Italian restaurant. It's kind of dark, the tables are covered with red and white checked table cloths, candles flicker, Dean Martin sings in the background. The waiter brings you a plate of pasta…
Meet Pasta Puttanesca
Red sauce with black olives and capers pooling over pasta.
Why I like this recipe:
Everyone likes it. At least when I serve it, no complaints. Ever.
It's fun to say. Puttanesca is a derivation of puttana, which means 'harlot' in Italian.
It's even better the next day. If you're lucky enough to have leftovers, the flavors mingling overnight pump up the deliciozo factor.
It's loaded with the delicious flavors of tomatoes, olives, capers and anchovies.

It's an easy heat-and-eat dinner. Just open a few cans and heat.
The ingredients
2 garlic cloves, minced
2 tablespoons olive oil
1 teaspoon dried oregano
1/2 teaspoon crushed red pepper
5-6 anchovies
3 14.5-ounce cans diced or crushed tomatoes
3 tablespoons capers, drained
1 6-ounce can pitted whole black olives, drained
16 ounces cooked pasta – linguini, penne, or spaghetti
The secret ingredient
Anchovies!
Anchovies are a cook's secret weapon because they are rich in glutamate, an amino acid that adds a rich savory flavor to foods.
You've likely eaten these little fish and not even known it. Worcestershire sauce is made with anchovies, so is traditional Caesar salad dressing. You may not like the texture or the saltiness on a pizza or salad, but cooked in a sauce, they melt into it. Unlike a bigger fish, where you'd see it in the sauce, these nearly disappear. It's the flavor you're after, and boy, do they deliver on that!
Anchovies have short life spans and reproduce quickly, so are resilient to fishing pressure and remain plentiful. Another benefit is their convenience. Once opened, they can be refrigerated for at least two months if covered with oil and sealed airtight.
In my book, Your 6-Week Guide to LiveBest, I encourage people to eat more fish and seafood (and I'm not talking about fried fish and chips!). But I feel like I've hit a brick wall. Seems more than a few people struggle getting fish on their plate.

Anchovies provide LiveBest benefits
These little fish have big benefits. Besides being flavor bombs that make your taste buds take notice, they also have heart healthy fats that thin the blood and preventing it from sticking to your artery walls which may help lower the risk for blocked arteries and heart attacks.
Fish oils are also good for our mental and emotional health. Populations who eat more fish seem to suffer less depression and mood disorders including seasonal affective disorder.
Pasta Puttanesca is packed with tomato nutrition
It's true that tomatoes shine in late summer, but the red cherry and grape tomatoes available now are worth buying. As a rule, the smaller the tomato, the more flavor and lycopene it has. Cooked with a little oil, the nutrients become more available for your body to use them.
Fresh and canned tomatoes improve health by reducing the risk of heart disease and cancer. Tomatoes are high in potassium which helps blunt the effect of sodium on blood pressure. So tomatoes lead to healthier blood pressure.
The benefits of tomatoes
To be sure, all tomatoes deliver benefits but these tips can help you maximize your health:
Red tomatoes have more lycopene and overall better-for-you plant compounds than yellow or green tomatoes.
Smaller tomatoes, such as cherry and grape, have more lycopene than larger tomatoes.
Canned tomatoes, including tomato paste and sauce, are some of the richest sources of lycopene because cooking increases lycopene and makes it easier to be absorbed.
Oil helps your body absorb the tomato's potent antioxidants and olive oil appears to have an edge over other oils.
If you like tomatoes, try:
But the real secret to Putannesca Sauce? Umami.
The amino acid that contributes the savory flavor, salty, brothy, meaty flavor that makes food taste so good.
In 1908 Professor Ikeda Kikunae of Tokyo Imperial University was eating dinner with his family when he discovered his cucumber soup tasted better than usual. He saw that kelp was in this version. He spent 6 months studying kelp and found that its flavor, which he called umami – literally deliciousness, came from the amino acid glutamate, a building block of protein.
Cook's note: Tomatoes, anchovies, beef, pork, poultry, Parmesan cheese, sweet potatoes, mushrooms. soy sauce, seaweed, carrots, beets, and miso are all rich in umami.
MORE Mediterranean diet recipes
P.S. Hungry for more healthy diet tips and recipes? Sign up for my newsletter right here.
Since you can't eat out every night, make it at home or pin it for later! Go ahead and light the candles.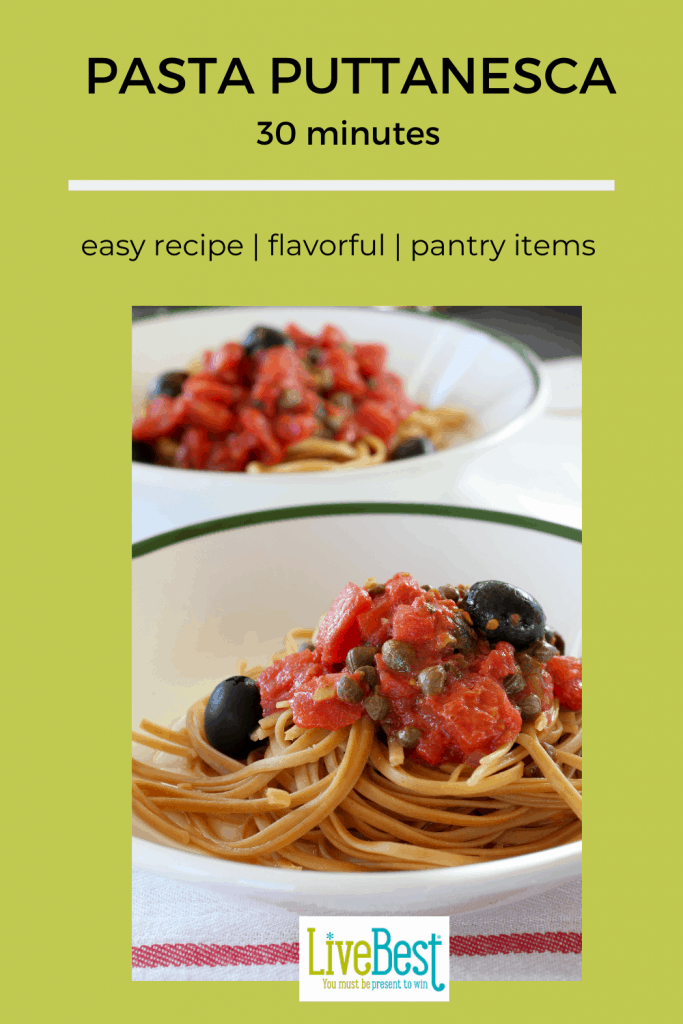 Print
Pasta Puttanesca
Pasta Puttanesca is a super easy heat-n-eat dinner. Loaded with the delicious flavors of tomatoes, olives, capers & anchovies, everyone likes it.
Author:
Prep Time:

5 mins

Cook Time:

25 mins

Total Time:

30 minutes

Yield:

6

1

x
Category:

dinner

Method:

stove

Cuisine:

Italian
Ingredients
2

garlic cloves, minced

2 tablespoons

olive oil

1 teaspoon

dried oregano

1/2 teaspoon

crushed red pepper

5

–

6

anchovies

3

14.5-ounce cans diced or crushed tomatoes

3 tablespoons

capers, drained

1

6-ounce can pitted whole black olives, drained

16 ounces

cooked pasta – linguini, penne, or spaghetti
Instructions
Add olive oil to a large, heavy-bottomed saucepan over medium heat. Add garlic, oregano, crushed red pepper and anchovies, stir to break up anchovies, cook 2-3 minutes. Add tomatoes and bring mixture to a boil. Reduce heat and simmer 20 minutes. Stir in capers and olives, cook 5 minutes more.
Serve over cooked pasta
Keywords: how to make red sauce, how to cook with anchovies, the benefits of eating fish, are tomatoes good for me
Calling anchovy lovers!
Don't hide your anchovies, enjoy the flavor and health bennies. Add them to salads and pizzas!