Ready in 20 minutes, Linguini with Swiss Chard is an economical, quick-to-fix recipe, filled with flavorful foods that deliver health benefits galore!
Popeye was on to something. When the sailor ate spinach, he morphed into a superhero—with super strength to fight off his enemies.
Though your biceps won't explode when you down a can of spinach, dark green, leafy vegetables are nearly superheroes. Which is one reason I like this recipe.
How make Linguini with Swiss Chard
Sautéed Swiss chard…it shines in the quick-cook recipe that comes together as fast as the pasta cooks.
It is filled with super delish foods that deliver all sorts of health benefits.
The ingredients
1/2 pound linguini, reserve 1/2 cup pasta water
1 2-ounce tin anchovies
3 tablespoons capers
3 garlic cloves, smashed
1/4 teaspoon red chile flakes
2 10-ounce bags greens (kale, Swiss chard, spinach)
1/2 lemon, zested, juiced
2 tablespoons pine nuts, (or walnuts) toasted
Get the pasta water going.
Heat the anchovies with their oil in large skillet, stir in the garlic, red pepper flakes, and lemon. These cook in just minutes. Add the Swiss Chard or other greens with a bit of pasta water.
Sprinkle pine nuts or chopped walnuts or hazelnuts over.
The benefits of vegetables: their protection becomes our protection
Phytochemicals protect plants from their enemies. When we eat them we absorb the compounds that strengthen our cells to fight off our enemies: heart disease, stroke, brain deterioration, diabetes, and certain cancers.
Bam! Reduce inflammation
Boom! Improve blood pressure
Pow! Increase artery flexibility
Vegetables are a gold mine of good
Vegetables (and fruits) supply nutrients that most of us could use more of:
Potassium
Fiber
Vitamins A, C, K
Magnesium and folate
Potassium is the superhero against sodium. Potassium helps maintain healthy blood pressure by blunting the effects of sodium, plus it decreases bone loss, and may reduce the risk of developing kidney stones. Potassium-rich foods include potatoes (white and sweet), white, lima and kidney beans, tomato products (including juice and red pasta sauce), lentils and spinach.
Green, leafy vegetables also supply eye-friendly compounds—vitamin C, lutein, and zeaxanthin—which may reduce the risk of cataracts and macular degeneration, the leading cause of blindness in Americans.
Dark green, leafy vegetables are so power-packed that they are called out in nutrition recommendations as foods to eat more often.

How often should you eat vegetables? 1 1/2 to 2 cups per week.
Which ones? Broccoli, spinach, leafy salad greens (including romaine lettuce), cabbage, bok choy, kale, turnip greens, and green herbs such as parsley and cilantro.
Why these? Many of these vegetables tend to be bitter, spicy, or strong smelling. Not a great sales sheet! The plant's compounds are responsbile for the flavor and smell, but also for the healthy dividends. No one said life is fair! 😉
How to cook vegetables
Stir-frying, steaming, a quick sauté or raw are cooking styles that maximize flavor and minimize odor. Because they tend toward the bitter side, adding other ingredients may increase their number of Likes!
Go Green with Gusto
Here are some LiveBest recipes to get you going:
MORE Mediterranean diet recipes
P.S. Hungry for more healthy living tips and recipes? Sign up for my newsletter here.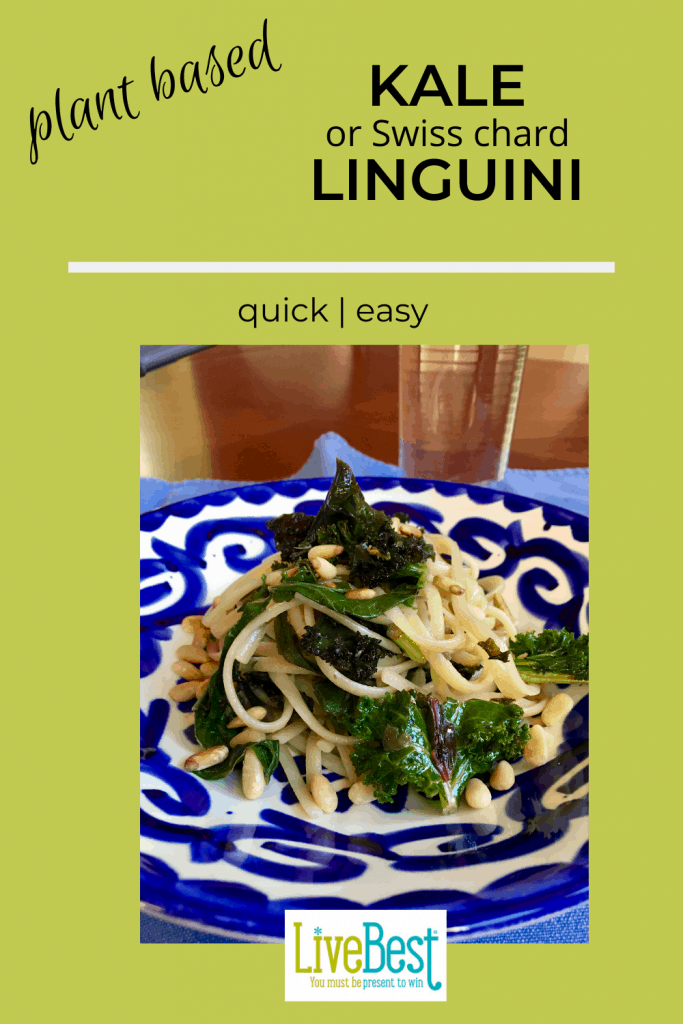 This post contains affiliate links. That means if you click on a link and make a purchase, I may make a small commission. This does not affect the price you pay but helps fund the website.
Print
Linguini with Swiss Chard
Ready in 20 minutes, Linguini with Swiss Chard is an economical, quick-to-fix meal, filled with flavorful foods that deliver health benefits galore!
Author:
Prep Time:

5

Cook Time:

15

Total Time:

20 minutes

Yield:

4

1

x
Category:

Dinner

Method:

stove

Cuisine:

Vegetarian, Italian
Ingredients
1/2

pound linguini, reserve 1/2 cup pasta water

1

2-ounce tin anchovies

3 tablespoons

capers

3

garlic cloves, smashed

1/4 teaspoon

red chile flakes

2

10-ounce bags greens (kale, Swiss chard, spinach)

1/2

lemon, zested, juiced

2 tablespoons

pine nuts, toasted
Instructions
Pasta: Cook the pasta according to package directions. When pasta is almost done, still a little firm, scoop a cup of pasta water, then drain pasta.
Vegetables: Meanwhile, in a large skillet over medium heat, add anchovies with their oil and capers, cook 5 minutes, stirring occasionally to break up anchovies. Add garlic and red chile flakes, cook 2 minutes, stirring so that garlic does not burn. Add lemon zest, greens and ½ cup pasta water. As they cook, the greens will shrink. Stir to combine ingredients. Remove garlic cloves. Add cooked pasta. Stir to mix together. Squeeze lemon juice over top. Sprinkle pine nuts.
Notes
Think of this as pasta with greens. Swiss chard, spinach, kale, mustard or collard greens all work. Some can be tougher than others so may take a little longer to cook.
Nutrition
Serving Size:

1/4 of recipe

Calories:

320
Keywords: vegetarian pasta, green vegetables